Medical Networks, a good start?
The Medical Community has newly developed innovative strategies in order to improve the conversation between professionals through a secure platform with the right tools to facilitate global communication and interaction.
Social4Med the Latest Global Medical Network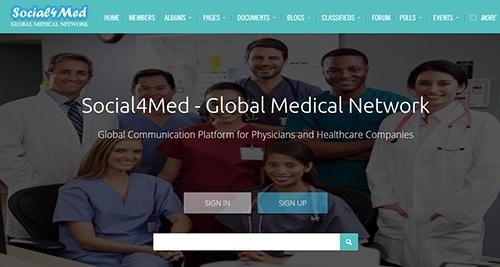 Social4Med is a global medical network, a social network for doctors, scientific societies, healthcare companies, universities and hospitals. The available user features are photo albums, blogs, pages, documents, forum, classifieds, groups, polls, events, messages, videos, group chat and single-private chat. This communication platform has 55 sub-networks available all for medical specialties. Social4Med is available on PC, smartphone and tablet.
How was Social4Med developed?
In 2011, this medical network for excellence is born because of the collaboration of doctors, experts in web development and social communication and computer scientists. The fundamental structure is a social network through filters which restrict access for well-defined categories of different professionals.
It offers a user-friendly environment that is according on a Registration which requires an approval from the Administrator, therefore minimizing false users in Social4Med. Free membership is available and is reserved to doctors, healthcare companies, scientific societies, universities and hospital facilities and recruiting companies.
Through Social4Med, the number of networks is equal to the number of specialties, currently 55 in total. Registered users will have the ability to choose more than one specialties to maintain information and participation on discussions in terms of specialization as well as those of personal interest.
Benefits for Its Members
Sharing with colleagues of clinical cases
Disclosure and publication of scientific content
Creation of personal web page and blogs
Storage of custom multimedia library via collection and archives of interventional and diagnostic videos and images
Conduct surveys with preset questions and answers
Publish personal ads for your practice and other members
Report important events for health professionals and medical doctors
Rich Features
With more features, the friendship and interaction is facilitated between geographically far colleagues. With the nature of social networks, Social4Med is also based on friendship among users. They can make themselves recognized, propose queries about topics of common interest, publish methodical articles, post ads, report events, videos, photos, instrumental test pertaining to professional activities and more.
A few prestigious scientific societies worldwide have built their individual Official Page which is addressed to subscribers which enables for direct conversation. Documents are managed in several formats, presentations can be viewed in various ways such as book mode, full screen, or slide mode that improves reading, and user-friendly management for this medical network is observed.
The Page can be created through individual professional via data entry of professional and scientific activity like information, curriculum, offices with automatic geographic map, videos, photos, professional documents and more. The Page is like a personal site through custom URL. A registered user can also access comments, shares, invitations, integration with LinkedIn, Facebook and Twitter.
The encryption of the connection is through SSL which can also be used via http connection. Through smartphones and tablets, the phone browser via writing www.social4med.com can be automatically loaded along with all the features and menus.
A good start to facilitate global communication and interaction between healthcare professionals?
Salvatore Tribastone, Cardiac Surgeon, Italy
Follow me on Twitter @salvotribastone